GAS VS Sportsman this past Saturday was the second to last game of the 2016/2017 season. With GAS still chasing the hope of the Division 1 title it was imperative we took 3 points with the hope that Red Star could manage to take points from FC Planet.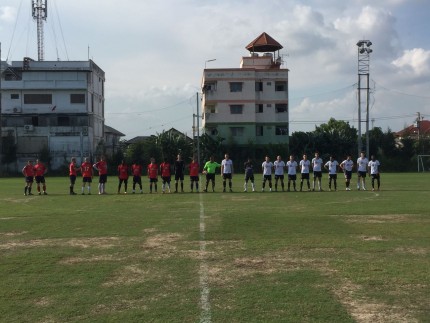 The game was a scrappy one. GAS started well and created 1 or 2 chances but couldn't find the break through. That was until Ronnie a.k.a. Philip Lahm stepped up to take a free kick from 35 yards out, thundering in his attempt into the top corner. Keeper no chance. Despite forgetting his shoes and only realising a week later, he clearly didn't forget how to strike a dead ball. A good goal from one GAS' men of the season so far.
1-0 HT.
Second half saw GAS start sprightly with Yan being as busy as ever teeing Craig up on the edge of the box with his shot being sent straight down the keepers throat. There were a few more chances squandered which inevitably encouraged Sportsman to step up their game resulting in GAS being pushed back. Very few clear cut chances were actually created by the opposition and the game was eventually seen out for a  1-0 victory to GAS.
The game was far from pretty but most importantly the 3 points were gained and this leads nicely into the final league game of the season against Flann O Briens on 25.3.17.
MOM – Yan