Saturday 22nd April 2017 will live long in the memory of the GAS faithful. Here is why…
It was cup final day. The Casuals League had pulled out all the stops with getting a fine venue in Siam's National Stadium, a perfect arena for without doubt the biggest game of the season for both teams. Pre game brunch was had at the Siam@Siam Design Hotel Bangkok next to MBK where the hosts kindly laid on fresh fruit and pasta, drinks and assisted with taking pre-game photographs.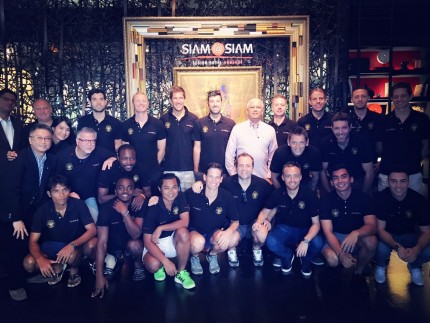 The stage was set and the game began well for GAS especially, until somehow they found themselves trailing by not 1 but 2 relatively quick goals in succession. Both similar, long hopeful balls over the top which the defence struggled to deal with allowing Planet's big CF to capitalize. GAS could not believe it as the better play and chances had all been theirs until those goals went in. Not long later another long hoof over the top caused yet more trouble and this time, it lead to a penalty after Captain Carl Turner was seen to have fouled the CF and some say he was lucky to remain on the pitch having already been booked. Not needing to be asked twice, Planet made it 3-0. Total devastation and silence around the stadium. Moments later though GAS were handed a lifeline when Julian smartly sold the Planet player attempting to make the tackle, cut inside and stunningly curled a 25-yard strike into the top corner. A worthy goal from one of GAS' men of the season and nothing less than deserved.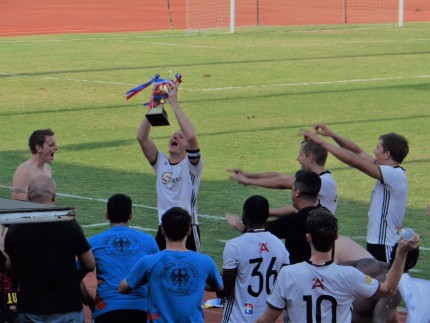 HT 3-1
A stern but upbeat half time team talk was given by the gaffer which we all thought would do the trick but the second half got off to an equally shocking start when Planet managed to squeeze another relatively soft goal in, leading the game then 4-1.
Planet wrongly seemed to think the game was over as GAS had other ideas. The king of all comebacks was to begin from that point onwards. Within 30 minutes of football GAS managed to pull off the greatest comeback ever known to the Casuals league. 6 goals in that time meant GAS had created more than one piece of history. Not only has there not been such a deficit turned around in a BCL cup final but we believe it is the first time Planet have ever conceded that mangy goals in a single game, let alone a half. It would have easily been first on the Match of The Day if such a thing existed in Thailand. The crowd was going wild. The players were going wild. The spectators who didn't know either team but came to enjoy the occasion were going wild. Street vendors peering through the gates watching were going wild. Simply everyone involved (bar Planet) was going wild.
GAS ran out 7-4 winners in the end and NO ONE that watched that game would say anything but the fight, desire, grit, determination, spirit, togetherness, team play, chances created and all round class shown meant we fully deserved the victory.
Never has lifting a trophy felt not only sweet but thoroughly deserved.
We would like to thank every single person involved on this day. And not only on this day but throughout the season. This season GAS Bangkok have made history with our league finish and cup triumph and we have done this with the help of everyone involved. Everyone played their part and for that we are grateful.
To round off a fantastic year GAS will be having their end of season event in June. Details will be sent soon.
Thank you
German All Stars, German All Stars, ole ole ole!