After the comfortable opening weekend win against Bangkok United last time out the message was loud and clear from the coach going into this game – we want to make a statement to the league!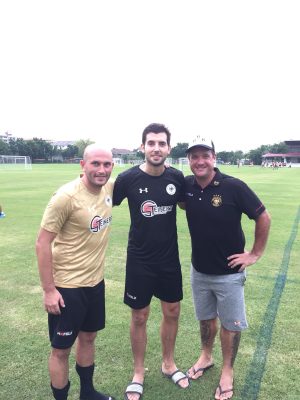 GAS began the game on the front foot and were camped out in the opposition half from the first minute but no breakthrough, until midway through the first half when a marauding run from left winger Julian's pull back eventually made it over to the right winger John who had time to take a touch and slot it past the keeper for the first goal of the game. The second goal followed shortly after, again coming from a left wing pull back from Julian allowing Tommy Almond to prod the ball into the bottom corner from the edge of the box.
The score stayed at 2-0 for the majority of the rest of the first half until a second yellow for the recently introduced Phoenix forward left the struggling side down to 10 men. This was an invitation for GAS to turn their dominance into goals and they grabbed one more through Yan to make it 3-0 at half time.
Despite dominating the entire game in the first half the message during the break was to take it up another level and nothing less than 6 or 7 goals would be acceptable.
With this message ringing in their ears the GAS boys began as they left off and within a few minutes found themselves 4-0 through substitute Philip through a neat little move down the right. Further goals followed in quick succession with Yan and Tommy both grabbing their second goals of the game, the latter a lovely left footed finish (who'd have thought) to put the game well beyond doubt. Despite ringing the changes the goals kept on coming and front man Yan eventually got his hatrick to make it 7-0 on the day followed by number 8 from the king of the assists Julian.
The best goal of the day was arguably saved till last with the marauding Ronnie audaciously chipping the opposition goalkeeper to round off a 9-0 win!
No doubt there will be tougher tests to come, but 17 goals in the first 2 games is an ominous sign for the rest of the league!
Man of the Match went to Michael Hotte for his energetic, never give up, never put a foot wrong performance.