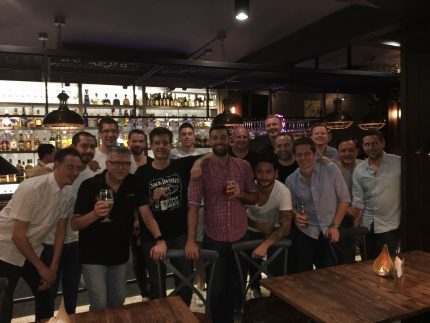 Yet another successful event for GAS!
With the squad's great show of form in the first two matches of the season team spirit is running even higher than usual, if that's even possible. Well, to make matters better GAS was scheduled during the one week break this past weekend, the decision was taken that it would be the perfect occasion for some team bonding, and so it was.
The evening kicked off at the trendy Kosmo bar located at the W District. The combination of flamboyant international personalities that the team is composed of created an atmosphere worthy of any red carpet event. Players gathered around a great table sharing memories, reliving and reminiscing their old champions league and world cup moments…..that they watched on tv. Some team members ate, all team members drank and soon enough an endless sea of satisfied faces ruled the bar, a satisfaction caused by how hard the team was bonding, obviously.
With team spirit becoming even higher still (it was possible), the team decided that it was time to move to the next venue. The Entourage pulled itself together, as you know how difficult it is to move around in five hummer limousines through the streets of Bangkok, but that was the police escort's problem.
Finally, the team arrived at the second and last (officially) planned destination. The venue was Ce La Vi and the event was the annual international DJ competition organized by one of GAS's very own Damian 'gives you wings' Schut which of course set up the GAS players as the guests of honor. With the spirit of comradery in the air and enough Red Bull Vodka to turn a whale diabetic, all that was left to do was hit the dance floor and enjoy 10 seconds snippets of every hip hop song you ever heard played endlessly back, to back, to back, to back….who needs continuity? Leave it for those weird people that like it when things make sense, right?
After as much team bonding as it is heterosexually possible the players danced until the Sun came up. Sun is one of the bouncers at the club who came up to tell us the venue would close at the regular scheduled time by Thai law, 2am. At which time all the players preceded to make their way home as the good, responsible bunch of lads they are. They all called each other in the morning to make sure everyone was feeling ok.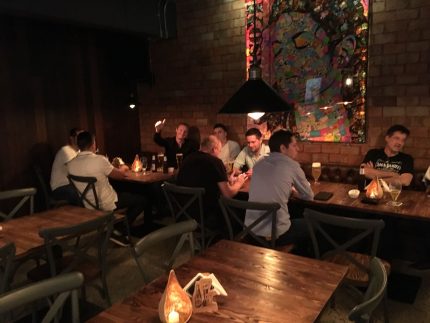 Needless to say every GAS member who survived the night will be telling their adult grandchildren about the events that transpired on that historic Saturday night. If you like being part of history make sure you don't miss the next one.
We would like to extend a special thanks to Diego and Damian and everyone else who was involved in the organization of this great night.