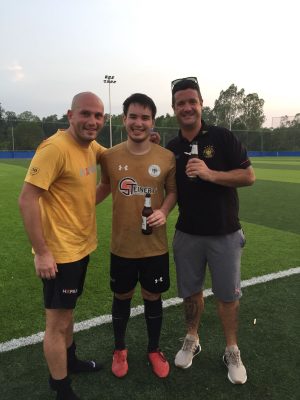 After a good win the previous weekend, spirits were high when the team travelled to Pattaya to take on FC Planet.
FC Planet would surely be looking to seek revenge for the Cup Final loss last season and GAS were looking to record their first away win at FC Planet and climb up the league standings.
GAS stuck with a 3-5-2 formation with focus on keeping possession and pressing when not in possession of the ball. GAS started the game well in what was a hot afternoon, made to feel even hotter from playing on AstroTurf.
Build up play from defence to attack was good and Yan was causing all sorts of trouble for the FC Planet defenders and could have quite easily been awarded two penalties before one was awarded. Dominik, who had been missing for the previous two weeks, picked up the ball, placed in on the spot and smashed it into the net. 1-0 for GAS.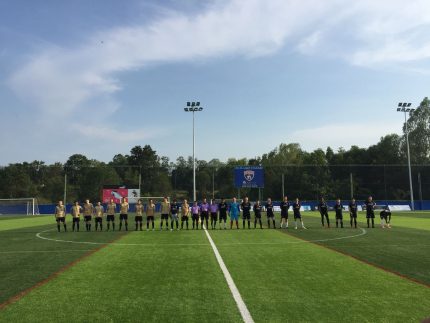 GAS continued to dominate and had a good chance to double the lead when Damian's shot was cleared off the line. GAS finally found a way through the FC Planet defence when JJ picked up the ball in midfield, switched play to Philip on the right who ran at the defenders, crossed to Tommy (who was enjoying his free role in midfield) who went passed one defender and then slot it passed the FC Planet goalkeeper. 2-0 to GAS.
The half time team talk focused on the wing backs playing a more attacking role to support the pressing play and the next goal being so important to the final score.
The second half started and GAS continued to dominate in the final third. FC Planet were becoming frustrated and resorted to unsporting behavior. GAS won a free kick on the edge of the box with Dominik and Yan standing over the ball. Dominik had already scored and Yan deserved to score after all the knocks he had taken for the team. Who was going to take it was the question being asked from the sidelines. Dominik took the run up and struck the ball with venom, which went straight through the wall and into the goal. 3-0 GAS.
The game ended 3-0.
The man of the match decision was tough as Carlos, Dominik, JJ and Yan all had very good games but the award went to Philip Mattioli who had carried on from where he left off last week with a good, solid performance and work rate in his new role as wing back.
Next week's game is at 2:30pm against Les Gaulois at Greenfield.