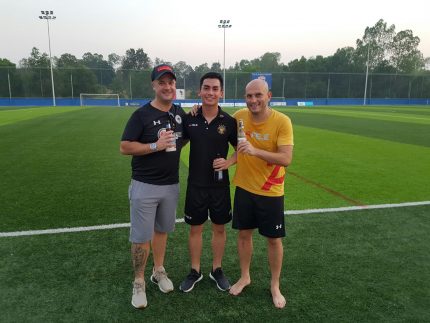 GAS made the ever eventful trip up to Pattaya on a sunny Saturday morning (for most) to return to the scene of one of their most enjoyable wins this season against Planet, with Pattaya City the opponents on this occasion. After watching the opponents from the week before get dismantled by their likely challengers, Planet, the boys knew a win was all that mattered and maintaining the gap at the top of the table.
With this message ringing in their ears, GAS couldn't have wished for a better start, as in under a minute, Thomas was sent tumbling in the box after a clumsy challenge from their CB and the ever reliable Dominic stepped up to put GAS into an early lead. Despite the searing heat in the first half it was GAS who were dominating the ball and they had a couple more chances to extend their lead before some nice play around the box saw the ball fall to captain, Tommy, who's close range effort was well kept out but that man again, Dominic, was on hand to poke the ball home, taking a bit of a whack in doing so.
The rest of the first half followed a similar pattern as GAS dictated the game, though not creating too many clear cut chances. The 3rd goal of the game arrived from somewhat unfamiliar circumstances but it was one that will live long in the memory of those who witnessed it. Utility man, and CM for the day, Kalle found himself with the ball at his feet just outside the box and with runners either side he opted to go alone and hit a thumping drive from the edge of the D in off to post and into the bottom corner. People in the stands were seen pinching themselves, but what an effort!
HT – Pattaya City 0 – 3 GAS
The second half started in cooler conditions with GAS playing into the sun and they didn't get off to the best start, struggling to find their rhythm and eventually conceding from the Pattaya City dangerman after a good ball in from the right side.
This goal however seemed to kick the boys into life again and they began to dominate the ball like before and continually found spaces down the flanks. It was through this approach that they managed to get the 4th of the game as Carlos, playing the second half on the RW, found himself in acres of space on the touchline and managed to pick out a pass to Tommy who notched for the 2nd game running to make it 4-1 and all but seal the 3 points.
All that was left was for Dominic to further extend his lead at the top of the scoring charts and pick up another hattrick this season as after some beautiful one-two play between himself and the captain he was one on one with their GK and sent him the wrong way to seal the 3 points for GAS and set them up for a quiet evening in the little fishing village round the corner
FT – Pattaya City 1 – 5 GAS
MOM – Carlos